While taking a road trip around Iceland's Ring Road, you'll probably notice a lot of churches dotting the countryside. You might also be surprised to learn that this tiny Nordic island of nearly 340,000 people has more than 350 churches. Seems like a lot, right? Religion is not an integral part of most Icelanders' lives; we're the sixth most atheistic country in the world. Nevertheless, you should try to carve out some time on your itinerary to visit a few of the prettiest churches in Iceland. Their unique architectural styles and unusual exteriors are part of our cultural heritage.
A Brief History of Religion in Iceland
Like many countries in Europe, paganism was practiced here before we converted to Christianity. The Vikings brought over their Norse religion and mythology, with a pantheon of gods like Thor, Odin, Freya, Loki, and others. Eventually, for political reasons and an escalating trade war with Norway, Iceland embraced the new monotheistic religion in 1000 AD. Godafoss waterfall is strongly tied to this important event in Icelandic history.
Now that Christianity is the state religion, things are a bit different. All Icelanders are registered as Christian with the Lutheran Church of Iceland when they are born. They later have confirmation at the age of 14 and are considered full members of the Church. But that doesn't paint the full picture and Icelanders are not as religious as you may think. Even though demographics show 85% of Icelanders as Christian, most young people don't think of God as the Great Creator. Many couples also do not marry before having children.
So Why Are There So Many Churches in Iceland?
To be fair, it all boils down to convenience. Anywhere you go in Iceland, you'll probably find a church, even in some strange locations. For a country that's not particularly religious, it's a bit surprising. You have to remember that Iceland's climate and general weather conditions are extremely harsh, so it wasn't always practical for people to travel long distances to worship. Instead, they built many small churches in the countryside so people could attend.
Hallgrimskirkja Church in Reykjavik, Iceland
Let's start with the biggest and the best. Reykjavik's Hallgrímskirkja is probably the most famous church in Iceland. From its unusual facade to its interior pipe organ, this is a striking church both inside and outside. Architect Guðjón Samúelsson was inspired by the country's volcanic landscapes when designing this beautiful work. You'll probably see a similarity between the front of this building and the hexagonal basalt columns at Svartifoss waterfall. This is probably one of our most visited churches and you'll want to check out the spectacular views overlooking Reykjavik. When coming to Iceland, this Reykjavik church is a must-see.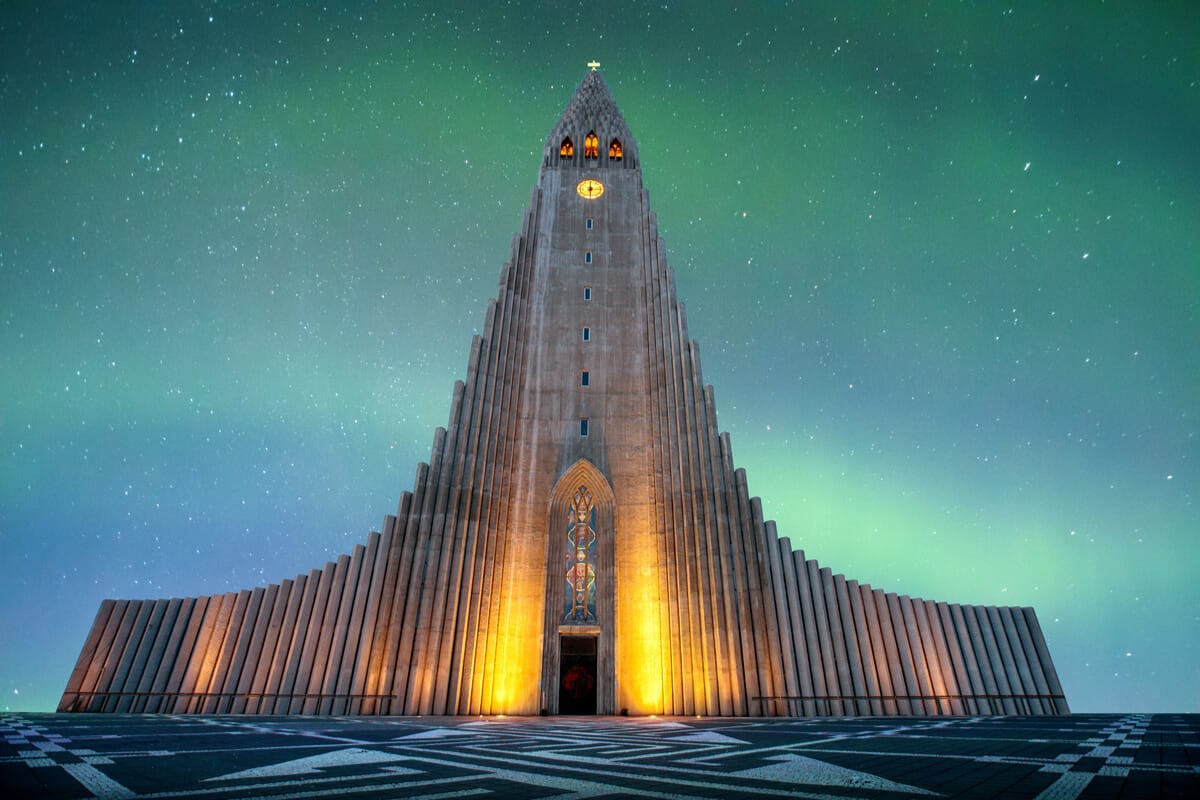 Akureyrarkirkja: The Church of Akureyri
In the north of Iceland, another one of Guðjón Samúelsson's churches inspired by Icelandic landscapes sits on a hill. The Akureyri Church, known as the Akureyrarkirkja, has a facade similar to Hallgrímskirkja. This is an Iceland church that not as many people get to see, because fewer travelers make their way to Akureyri from Reykjavik. It's a distinctive landmark in the town which features bas-reliefs and a large pipe organ.
The stained-glass windows also have an interesting story. They originated in England at the Coventry Cathedral and were removed to protect them from bombing during World War II. Imagine everyone's surprise when they showed up in Akureyri years later!
Vík í Mýrdal Church
While driving along Iceland's South Coast toward Vatnajökull National Park, you'll probably want to make a stop in the seaside village of Vík. With around 300 inhabitants, Vík may be small but there's plenty to see and do here. The local church is especially striking. The iconic white building with a red roof sits atop a hill overlooking the village and adds to its charm. Many travelers staying here overnight head to the top of the hill to see the lovely Vík í Mýrdal church in Vík Iceland.
The Black Church in Iceland: Búðakirkja
Have you heard about the black church in Búðir? It's definitely on our list of the most beautiful churches in Iceland. This small church in the Snæfellsnes Peninsula isn't special because of any particular architectural or structural difference from other churches. In fact, it's quite representative of the typical Icelandic style. Many of the churches in towns and village in Iceland have similar places of worship.
A lot of churches have either the exterior walls or the roof painted a bright color like red or green or even pastels like baby blue. Búðir church in Iceland is different, which is probably why it catches the attention of so many. Búðakirkja, also known as Iceland's black church, is painted almost completely black. Its white windows and doors provide a striking contrast on this building with not much else around.
Turf Churches in Iceland: Hofskirkja
You've no doubt heard of Icelandic turf houses. But did you know there are also turf churches? This traditional architectural style can best be seen in the town of Hof in southeast Iceland. With thick grass covering the roof, it looks like this church sprouted up from the ground surrounding it. It's one of only six left in the country, so you'll no doubt want to make your way here. This church is located particularly close to Vatnajökull National Park and glacier, so you have no excuse not to visit.
Skálholt Church in Iceland: Skálholtskirkja
The Skálholt Cathedral is a cathedral church officially recognized by the church of Iceland. It's one of the newer churches in Iceland and was built in the 1960s. The interior has 25 stained glass windows designed by Gerður Helgadóttir. Skálholt is an off-the-beaten-path highlight of the Golden Circle route, so if you're around, think of stopping by the cathedral.
The Blue Church in Iceland: Seyðisfjarðarkirkja
Another lovely church to visit in Iceland is the pretty powder blue Seyðisfjarðarkirkja. It's located in the Eastfjords and is probably one of Iceland's most recognizable architectural landmarks. This beautiful building has a rainbow path leading up to it and is definitely quite a quirky sight to behold. Much like the black church in Búðir, this structure has a playful, distinctive color. The powder blue church in Seyðisfjörður is one to include on your Iceland itinerary.
Blönduós Church Iceland
Blönduóskirkja a very modern-looking church, some might even say futuristic. Like some other churches in Iceland, volcanic landscapes also inspired this one. It would be hard to even know it was a church if it weren't for the cross standing next to it. The slate gray church resembles a volcanic crater with its sweeping silhouettes and conical shape.
8 Prettiest Churches in Iceland
If non-traditional churches or religious establishments are more your speed, you should visit the pagan church in Iceland. While not a full church, the pagan temple in Grindavik on the Reykjanes Peninsula It's a great stop off for those looking for something different. At around 47 minutes drive from Reykjavik, it's easy to do as a day trip. Where do you opt for a pagan temple, the church in Vík, Iceland, the turf church, one of the colorful traditional-style churches sprinkled around the island, or the larger structures in Reykjavik and Akureyri, you'll no doubt enjoy visiting Icelandic churches.