September is a transitional month for Iceland. With each passing day, we say goodbye to the warm weather, and hello to sweater weather. I think September and the fall are a great time to go to Iceland, especially after the tourist hordes of the summer. Temperatures in September begin to dip, and our shrubs and trees begin changing color to golden yellows and brilliant oranges. September weather in Iceland may not be as sunny and warm as June, July, or August. Although to be perfectly honest, I prefer the windy, wet, and cooler days of autumn. I'm a weirdo, I know. But when you sweat like a sedan on an F-road, then the cold weather is a blessing. If you've never been to our tiny Nordic island, you may be unaware of just how drastically the weather changes over the course of the month as we ease into the fall.  
September Means Rainy and Windy Weather in Iceland
Wet and windy is just about the best way to summarize the climate shift here in Iceland during September. Personally, I think it is foolish to give exact rainfall predictions for Iceland during autumn. Expect rain at all times. While the fall colors may be stunning and having the ability to justify my addiction to hot chocolate are helped by the coming of fall, staying dry is almost impossible. Especially if you are located in the southern region of Iceland, or near a coastal area. North Atlantic storms brush against our Nordic island and coat the countryside in waves of rain. So, check the IMO (Iceland Meteorological Office) website for all storm fronts. It's also imperative to be prepared and have a rain jacket at all times.
Temperatures in Iceland: September Means Sweater Weather
September marks the official beginning of cooler weather. Again, this doesn't bother me at all. I prefer the fall and spring because I run hot. Similar to an old engine that has just powered through a massive pond. My body basically vents massive amounts of heat and sweat. I know, very attractive. Thanks! I am proud of it. Let's get serious though and talk temperatures.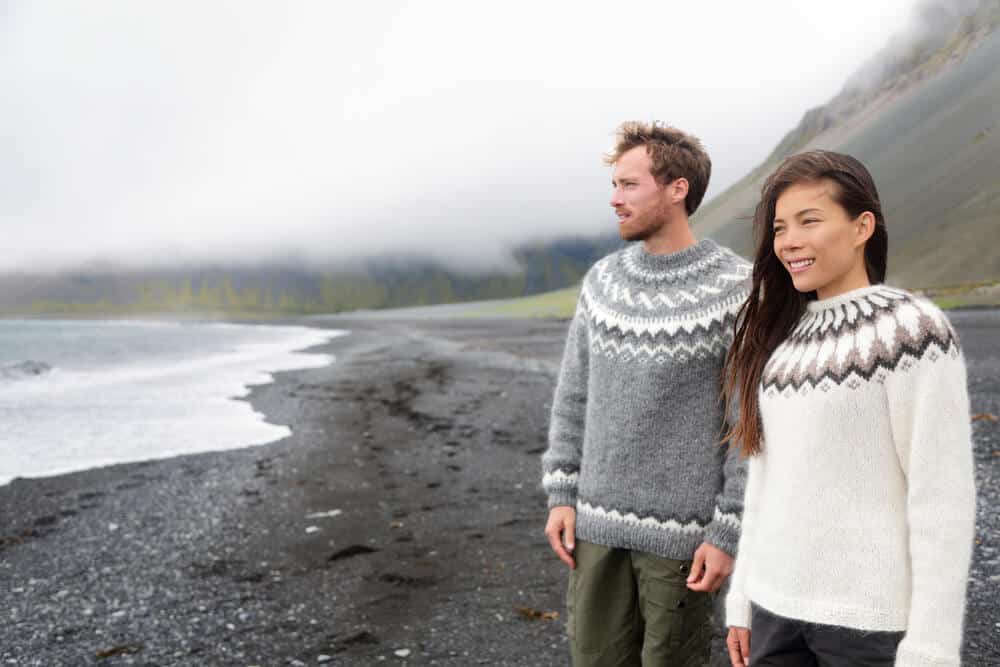 The average highs and lows in Iceland during September fall between 5-11 °C (40-52 °F). These numbers though are heavily skewed. They don't take into account cold fronts from the Arctic, storm fronts, and a whole host of other meteorological factors. Iceland is well-known for its unpredictable weather, which can change at any second. So, again, while these are average temperature ranges, be prepared for anything. If your clothing isn't warm enough, you might even end picking up a traditional Lopapeysa woolen sweater on your travels. This brings us to our last section: what to wear in Iceland during September and the fall months. You'll want to pack the right clothes for your trip.
What To Pack and Wear In Iceland During September
Layers and waterproof clothing are the name of the game here in Iceland during September. I always recommend layers for just about any time of year in Iceland. Layers allow you to perfectly customize your apparel's functionality so that it can adapt to your surroundings. It's important to pack the right items in your suitcase before heading to Iceland. For argument's sake, let's say you wanted to take an excursion to see the Northern Lights. Fall evenings in Iceland can get very brisk in September. Instead of wearing five sweaters, and looking like you are trying to smuggle a turkey out of the grocery store, you can just layer up with some breathable thermal layers.
Thermal layers allow your body to retain as much heat as possible while staying cool and dry. Pair a thermal with a t-shirt, light sweater, and an unstoppable rain jacket, and you are ready for any eventuality. Also, don't forget those rainproof boots and socks. I also recommend Smart Wool socks for those visiting Iceland during the autumn months. Lastly, try to invest in some rain pants or water resistant hiking pants. They pay dividends at the back end of your trip.
September Weather in Iceland: A Full Overview
So, that's basically everything you need to know Iceland's weather in September. Daylight hours average around 13 hours per day. This is probably what you are used to back home as it is the global standard. Iceland also becomes very windy during September. Besides that, I have already told you everything that you need to know. Make sure to check out our suggestions for an Icelandic packing list and double check that you have all the gear you need. Lastly, have fun. September in Iceland might be damp and dreary sometimes, but it is also one of the best times to visit Iceland. Buy your plane ticket and come explore. What are you waiting for?