When traveling to a foreign country, you'll be interacting with cash on a daily basis. Everything from clothes, souvenirs, and shopping to purchasing excursions from tour operators to dining out. And while you can use credit cards or your debit card to pay for pretty much everything, having some local money in your pocket is always nice. Iceland currency, its exchange rate, and tax-free shopping are all things that will affect your trip, so let's take a look.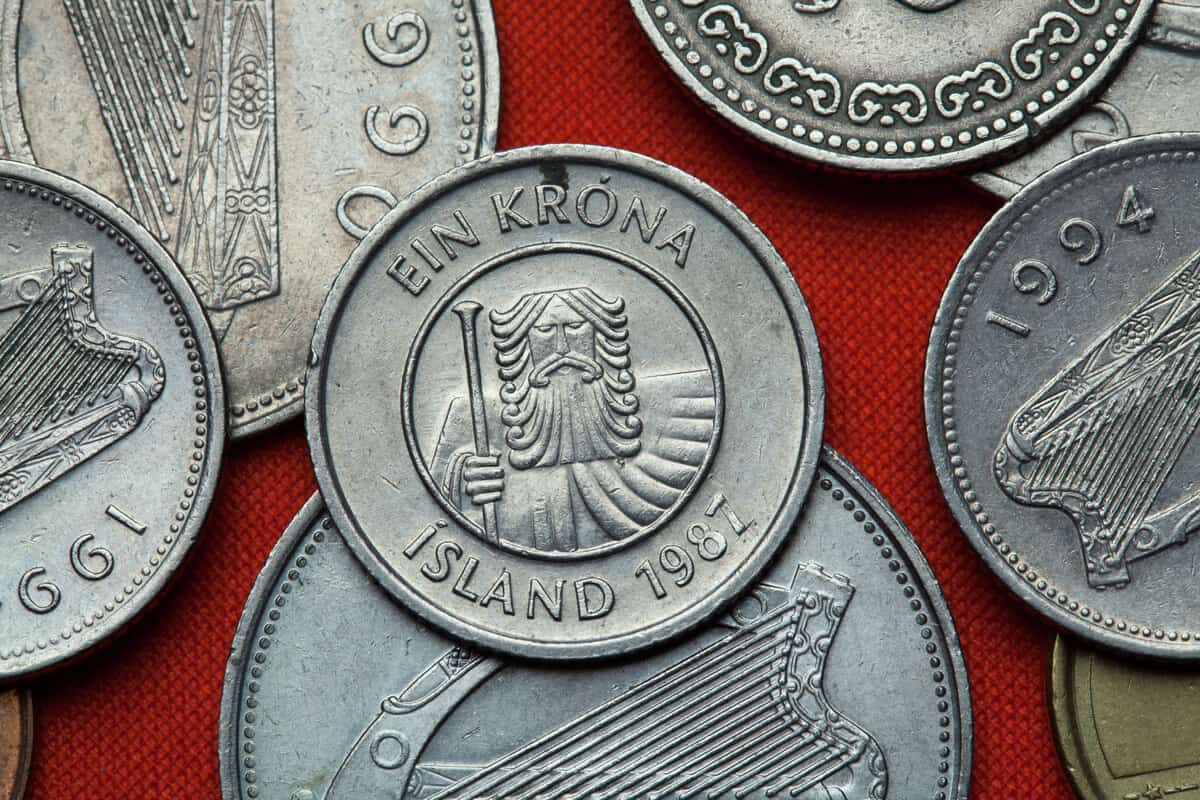 Currency of Iceland
The official currency in Iceland is the Icelandic krona (ISK). It dates back to the late 1800s when the country was still under Danish rule. Eventually, Iceland began producing its own krona currency. After gaining independence from Denmark, Iceland also separated monetarily. The currency of Iceland has been in its present form since 1981.
The Bank of Iceland is our central bank and is in charge of printing and monitoring the Iceland money in circulation. They don't really interfere too much with monetary policy, that's handled by the government.
What Does Iceland Money Look Like?
Icelandic krona comes in a variety of banknotes and coins. They feature historical figures and typical Icelandic animals. Our bills are purple, red, green, brown, blue, and multicolored. They come in denominations of 500, 1000, 5000, and 10000. Some of the Icelanders on Iceland money are painter Jóhannes Kjarval, poet Jónas Hallgrímsson, and prominent society woman Ragnheiður Jónsdóttir.
Icelandic currency is quite beautiful and you might even want to take some of our colorful money home with you as a souvenir. I've always done that on trips where I find the country's currency to be very pretty.
Do I Need Iceland Money During My Trip?
While it is always nice to have some cash on hand when you travel, I don't know that I would say it's 100% necessary here. Even Reykjavik's iconic Bæjarins Beztu Pylsur hot dog stand accepts credit cards. But if the idea of a cashless existence while traveling to Iceland makes you uncomfortable, then, by all means, keep some krona currency in your wallet.
There are a few ways to go about this. What I recommend (and what I do when I travel abroad) is to simply take some money out of an ATM once I arrive. This is based on the assumption that I'm not withdrawing huge wads of cash or that withdrawal fees are low or non-existent. Everything else I put on my card because there are no foreign transaction fees.
You can also get some Icelandic currency from your bank back home before your trip. Just make sure they have ample time to order it and receive it. Most banks don't keep foreign currency in their vaults, so they'll need to special order it.
I would advise you not to get any currency in Iceland from an exchange bureau. They make their money by charging high commissions and giving really bad rates. Banks and ATMs are your best best for sure.
The Exchange Rate for Icelandic Currency
It always helps to have how much bang for your buck you're getting while traveling abroad. While rates fluctuate according to seasonal trends and the global economy, this should give you a rough idea of current exchange rates.
1 USD = 125 ISK
1 EUR = 140 ISK
1 GBP = 158 ISK
Scandinavian Currencies
1 NOK = 14 ISK
1 SEK = 13 ISK
1 DKK = 8 ISK
Here's a useful tool to look up the exchange rate for Iceland currency to USD and other global currencies.
Tax-Free Shopping in Iceland
One of the biggest benefits of shopping in Iceland is that you can get a VAT (value added tax) refund on your purchases. With the possibility of getting up to 24% back on whatever you buy, tax-free shopping in Iceland is simply too good to pass up. Your purchases need to be 6000 ISK or more, and there's a special procedure you need to follow. While you buy something, be sure to get the tax free receipt at the counter and make sure the vendor has signed it.
After you've finished your trip and are at Keflavik International Airport, you'll need to get your form validated. You can do this either at Arion bank or at customs, depending on the amount of your purchases. Then you make your way to the refund point. You'll need to provide documentation that your permanent residence is outside of Iceland. This can be something like a passport or a residence card from another country.
Be sure you get to the airport very early as lines are quite long. You'll need to give yourself enough time to get your refund before you check your bags. Many times, people see the line, and give up because they realize they don't have enough time to wait.
Iceland Currency: What to Know For Your Trip
Now you know all about the legal tender in Iceland. You're ready for your trip to Iceland and if you need to pick up some Icelandic króna, you know where to find it.