I believe the point of visiting foreign countries is to learn the local culture so you should always try to experience it as the natives would do. Would you go to the USA and not have an Apple pie? Or visit Spain and not have wonderful tapas? Well if you are coming to Iceland then you just cannot leave without having enjoyed a geothermal bath. That is why we have brought you the best geothermal bathing spots in Iceland for you to enjoy, just like an Icelander would do!
Hot baths, steam rooms, and hot spring baths have been part of our culture for so long that It does not matter how small a town is, it has its own pool. Bathing is considered to be a social activity, everyone gathers in this geothermal bathing spots or pool to talk, share, meet with their family and tighten bonds. As you may already know, Iceland weather is, let's say, rather cold.
One cannot just head out to a beautiful plaza like a sunny Mediterranean country or head to a pub because alcohol beverages were long banned. So bathing became a vital part of Icelandic society.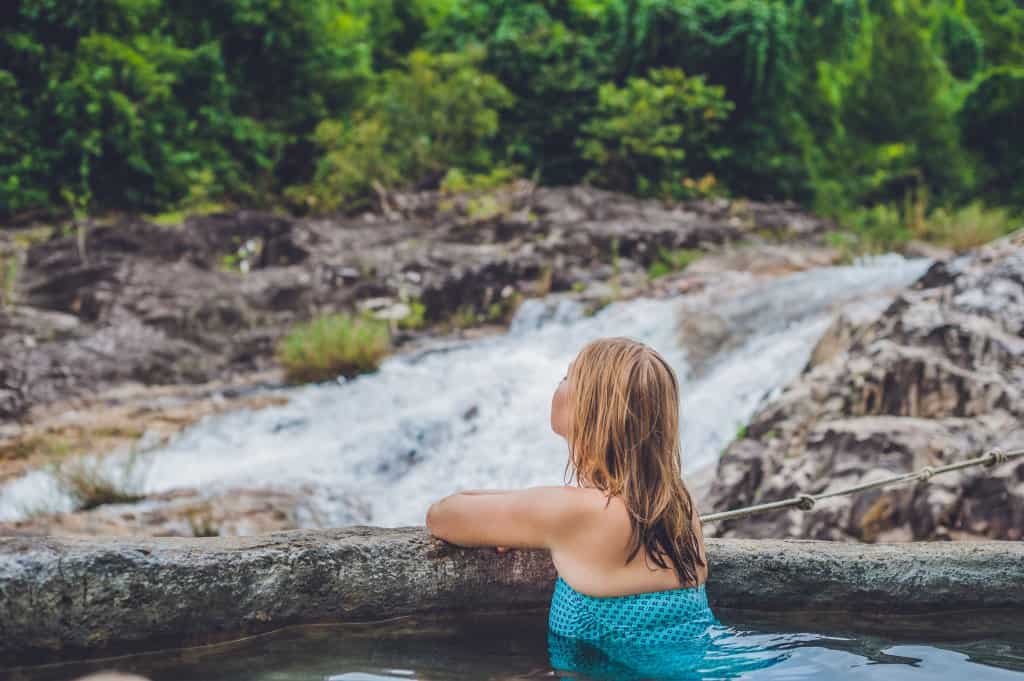 Not every geothermal bathing spot is the same, they do differ in size and some have really high mineral content. They are considered to be great medicine for several health problems or skin conditions. You may have already seen different pictures of the well-known Blue Lagoon, close to Reykjavik. In this geothermal bathing spot you can have Silica mud you can apply on as a fresh face mask, it soothes, moisturizes and pretty much give you a whole new radiant skin!
Since there is plenty information of the Blue Lagoon, I will now focus more on other geothermal bathing spots that are absolutely stunning too. Get your swimsuits ready ladies and gentleman! It does not matter if it is a frosty winter day or a windy summer evening, you just got to dive in!
Top 5 Geothermal Bathing Spots in Iceland:
The Secret Lagoon
It is located in the south part of Iceland close to Flúðir. This area is near Gullfoss and Geysir. Which as you may already know, is the Golden circle area. This natural pool is the oldest swimming pool in Iceland. Its surroundings are just spectacular and the water stays at 38-40º Celsius all year long. So you can also come here during the winter time to enjoy a relaxing warm bath in a magical place.
Landbrotalaug Hotpot
On a long journey through the Snaellfellsnes peninsula and you feel like unwinding? This could be a good place to stop! This is a tiny bathing spot that consists in two pools. They are small but delightful! This place is in the middle of nowhere. we highly recommend you to bring some beers and stay to watch the Northern lights plunged in a 44º Celsius pond.
Mývatn Nature Baths
Another nature wonder, just 105 km away from Akureyri in northern Iceland.
This is a well-equipped facility, there is not just a bathing lagoon but also steam rooms, changing rooms and even a restaurant! All of this surrounded by a beautiful landscape.
The water flow of this geothermal bathing spot comes directly from Bjarnarflag. It contains a large amount of minerals that are beneficial for your skin. Temperature ranges from 36º to 40º Celsius.
Top 5 Geothermal Bathing Spots in Iceland
Lake Viti (Askja)
This can be considered the most exotic destination in Iceland. If you happen to be traveling the north of the country, this is a must-see spot. Sadly, this area can be kind of hard to reach as you need to be an experimented driver with a well prepared 4×4 vehicle. If this is not your case, we highly recommend you to take a guided tour to this volcanic area. This lake was formed in a crater, yes that is right a volcano crater! An explosion back in 1875 filled it with geothermal heated water at 28º Celsius with a peculiar light matte blue. This is not an easy point to reach but if you do, believe me, it is completely worth it!
Landmannalaugar geothermal pool
Last but not least, the famous Landmannalaugar located in southern Iceland. This is an outstanding place to go. The landscapes are just beautiful! Landmannalaugar actually means "The people's pool" so you can get an idea. This place if full of natural geothermal baths with soothing waters for those tired locals or travelers. You can either rent a car and head here or get on a tour, multiple operators run them daily.
Summary
Reviewer
Review Date
Reviewed Item
This is so helpful in planning my trip to Iceland this fall. Thank you very much!
Author Rating