What happens when a volcano erupts? Fire, ash, and smoke spew into the air. The scorching magma that had been churning beneath the earth's crust surfaces in the form of lava. That liquid fire eventually cools, and we're left with one of Iceland's most spectacular natural wonders: lava fields. The Eldhraun lava field in South Iceland is of particular interest due to the woolly fringe moss that covers its surface.
Eldhraun's History
Like many of Iceland's most spectacular natural attractions, this one occurred during a cataclysmic volcanic event. The Laki eruption that lasted from 1783 to 1784 was one of the most devastating events the island has ever experienced. With crop failure and the death of many domestic animals, this poisonous eruption wiped out around a quarter of the population. Most Icelanders didn't die during the eruption itself but rather the period of disease and famine that came afterward as a consequence.
The scale of this eruption was so large, that it also affected other parts of Europe as well. Ash from the eruption traveled as far as France and the UK. Some historians even theorize that the sun being partially blocked may have contributed to the French Revolution. Perhaps they thought it was the End of Days and were ready to revolt.
This terrible geological event is known as "Skaftáreldar" in Icelandic or "the Skaftá river fires" as it took place near the Skaftá river.
Thankfully, Laki seems to have gone dormant and has not erupted since. There are other active volcanoes in Iceland, also along the South Coast, but this one shouldn't give you any trouble.
Eldhraun Lava Field
Eldhraun is one of those spectacular Icelandic wonders that everyone always talks about. It's something that you will not find in many places in the world, much like the country's glacial lagoon. You go there, and you'll be wowed by your surroundings, as surely it's unlike anything you've ever seen. The seemingly neverending bubbles of green, moss-covered rocks will trip you out.
Not only is it the largest lava flow in Iceland, but the volcanic moss that grows at Eldhraun lava field Iceland is special as well. It's a geological wonder that rarely happens in nature thanks to an uncommon combination of elements. But we are lucky enough to have experienced the magical alchemy necessary to grow volcanic moss.
Volcanic Moss in Iceland
Lava fields were originally charcoal-colored, barren landscapes for a very long time. Eventually, they began to grow vegetation, and the is volcanic moss we know today. It is very fragile, and once destroyed, it can take up to 100 years to grow back. Sometimes it dies and doesn't regenerate at all. This is why we have to be especially concerned with conservation efforts and respecting nature. The thick, serene-looking moss is almost enough to make you forget about the area's violent past.
Please be very careful and respectful by not walking all over the moss (or heaven forbid, rolling around on it like Justin Bieber). Trampling the moss beneath your feet will cause damage that lasts long after you've left our beautiful island.
Eldhraun Iceland: Getting to the Lava Field
Getting to Eldhraun lava field is quite easy as you'll just need to take a detour off of the Ring Road. The Eldhraun lava field location is about halfway between Vik and Hof near the small village of Kirkjubæjarklaustur. If you're looking for specific directions or an Eldhraun lava field map, you might be a little hard pressed to find that. This is more of an area that's all around Kirkjubæjarklaustur.
There's ample Eldhraun parking, so it's just a matter of finding a spot and then following the trails. When driving west to east, you'll find a good lot just before the fields start.
Eldhraun Guesthouse Iceland and Holiday Homes
One of the more popular accommodation options in the area is the Eldhraun Guesthouse, Iceland or Holiday Homes. Located about 20 km (12.5 miles) south of Kirkjubæjarklaustur, the Eldhraun Holiday Home make the perfect base for exploring both the mossy lava fields and Vantajökull National Park.
I suggest visiting their website to see what kinds of rooms and accommodation they have available. And as always with Iceland, book as far in advance as possible. You can also explore the area as a day trip from Vik.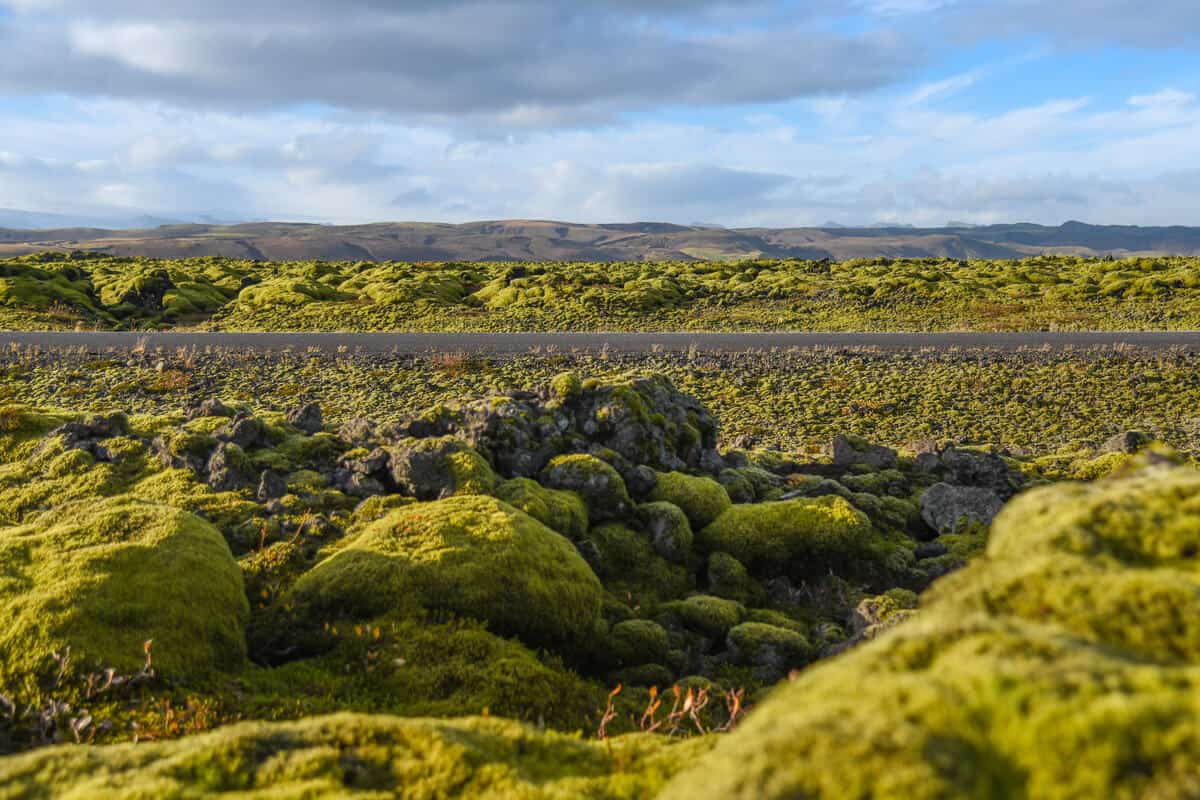 Eldhraun Lava Field in South Iceland: Location, Guesthouse, and More
When you decided to explore Iceland, be sure to stop by one of the largest lava fields in the world. It's around 565 square kilometers,  which is close to 218 square miles. The Apollo 11 crew even came here to train for their moonwalk. According to NASA, the non-mossy parts of the lunarlike landscape here closely resemble conditions on the plantless surface of the moon. Let us know what you think of this uniquely Icelandic zone.