The Blue Lagoon is pretty simple to describe: one of the coolest and most surreal places you can visit in Iceland (and probably the world). With such a flattering description, it's not hard to understand why many people want to know all about this unique place. A visit to the Blue Lagoon is a must do when visiting Iceland. In this article, we will tell you all you need to know about the relaxing oasis located on this beautiful island.
Can you imagine a cold winter day, freezing wind, low temperatures and layers and layers of clothing? Well, what if we change that image to having a delicious drink while soaking in warm waters, steam coming up while the surroundings are freezing and covered with snow? Sounds idyllic right? Well, it is. There is nothing more restorative and relaxing than forgetting about the world while improving your health.
What is the Blue Lagoon?
As its name clearly states, it is a lagoon filled with warm, azure geothermal water. The first thing we need to clarify is that the lagoon is not naturally-occurring. Many people do not know that the lagoon is a man-made spa located right by a power plant.
Iceland is a land with a lot of geothermal activity beneath its surface. So for centuries, the country has used these geothermal sources to produce energy. The power plant draws out geothermally heated water and as it passes through a circuit, it generates energy. This water is then sent back to the ground. Back in the old days, the water started to accumulate and flooded a lava field. That is how the lagoon was originally created.
The water has an unusual milky turquoise color. This is due to the presence of blue-green algae and white silica mud at the bottom. The contrast between these waters and the dark black lava rocks makes it Iceland's most popular attraction.
What are the health benefits of the Blue Lagoon?
The water temperature ranges from 37-39 degrees Celsius (99-102 F). The closer you are to the core of the Lagoon, the warmer the water gets. Warm water calms the central nervous system, improves circulation and decreases stress levels.
The silica mud has positive effects on several skin conditions such as psoriasis. It nourishes the skin and deeply cleanses and tightens the pores. Just remember to keep it away from your hair. It's great for your complexion, but it's an enemy to your hair. It can dry out your locks and leave them stiff. If you don't want brittle strands, do not get your hair wet in these waters. We advise bringing a bathing cap and lots of conditioner.
How to get to the Blue Lagoon
This beautiful area is located in Grindavik, a village about 50km away from Reykjavik, which is Iceland's capital city. It is way closer to Keflavik International Airport, 21km away or 20 minutes' car ride away. So if you are flying into KEF airport or departing from it, be sure to add the Lagoon to your itinerary!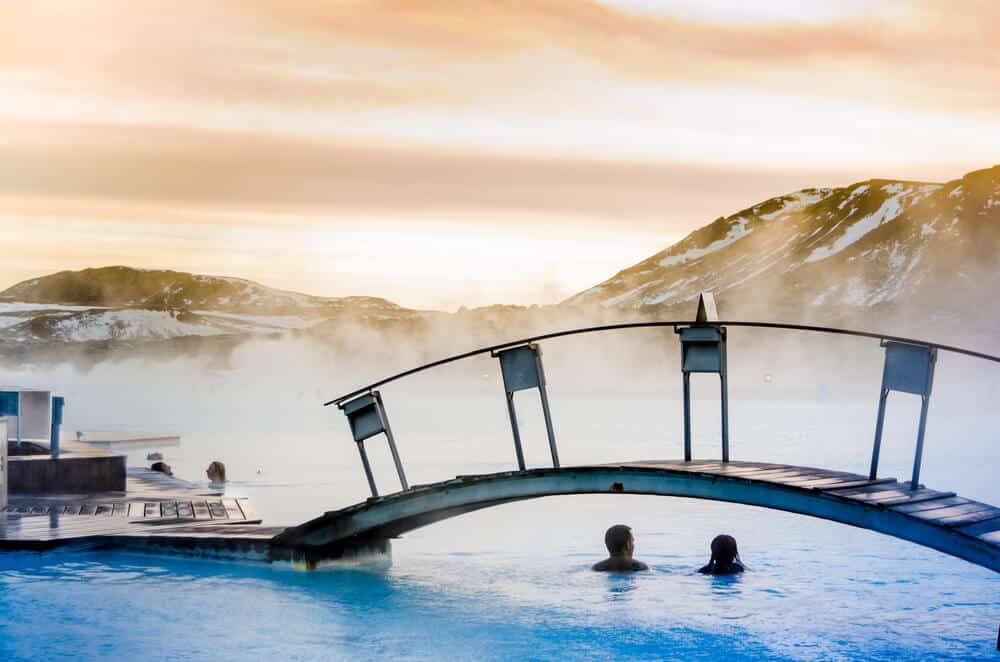 There are transfers available to and from the airport as well as from the Reykjavik BSI bus station. These buses are not part of the public transportation system but rather coaches from private companies such as Reykjavik Excursions or Greyline. At the Blue Lagoon, they provide luggage storage, so you do not have to worry about coming directly from the airport with a ton of suitcases.
Entrance options for Iceland's Blue Lagoon
The spa offers different types of services. For the Blue Lagoon experience, the price starts at 54€, and the Luxury Retreat Spa experience begins at 228€.
With the Blue Lagoon experience, you also have different pack options:
Comfort pack – 54€
Entrance ticket
Silica mud mask
Use of a towel
1st drink of your choice
Premium pack – 77€
Entrance ticket
Silica mud mask
Use of a towel
1st drink of your choice
Algae mask
Slippers
Use of bathrobe
Table reservation at Lava Restaurant
Sparkling wine at Lava Restaurant
Iceland's Blue Lagoon
Whatever option you chose, be sure to book in advance. Pre-booking is required as this is a very popular and in-demand destination.