When researching an Iceland road trip, there are a couple of key points that will pop up quickly. The first is what type of vehicle to rent (car, campervan, or motorhome). Each mode of transport has its own advantages and disadvantages. And when deciding which car or RV best meets your needs, you'll start to hear a lot about F-roads and 4×4 vehicles. This type of road is a new term for most people. So what exactly is an F-road in Iceland? Are they open all year long? And how do you drive on them? If you're planning on exploring the Icelandic Highlands or navigating mountain roads, then read on to find out all you need to know about Iceland's F-roads.
What is an F-road in Iceland?
Simply put, and F-road is just a mountain road in Iceland. The "F" comes from the word "fjalla", which means "mountain" in Icelandic. If you're planning on driving beyond the country's Ring Road, chances are that you will end up on one of these F-roads at some point. Some sightseeing destinations, such as Dettifoss, have access via an F-road. Their surfaces are special because they are generally not paved or are only made of gravel. You know which ones are F-roads because they are marked with an "F" before the number of the road. So F894 (Öskjuvatnsvegur) and F206 (Lakagígar) are mountain roads 894 and 206 respectively. An exception is Kjalvegur (Road 35), which takes you to Gullfoss.
When do F-roads in Iceland open?
Iceland's F-roads are quite special because they are not open all year. Conditions are actually favorable during only a few months out of the year, namely the summer. The rest of the time, it's much too dangerous to drive on mountain roads in Iceland. Melting ice, freezing snow, landslides, and other factors make things a bit too precarious for maneuvering a vehicle. Iceland's roads are already slick most of the year, so throw in the fact that F-roads are unpaved and road conditions are constantly changing, and you've got a recipe for disaster. The Icelandic Road and Coastal Administration rightfully closes these roads when conditions are not safe.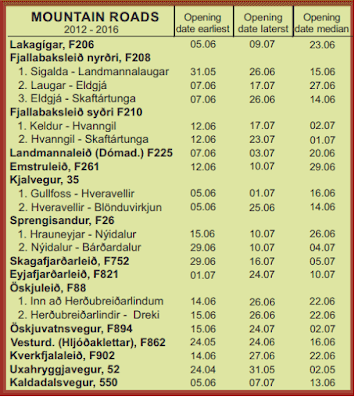 Not all F-roads open at the same time. They are inspected on a case-by-case basis and it can change from year to year. The earliest opening times happen at the end of May but some roads may not open until mid-to-late July. Most F-roads open from the middle to the end of June or early July.
What type of vehicle do I need to drive on an F-road?
Because of the unique nature of F-roads, you need a special type of car to drive on them. It's mandated by Icelandic law that you need a 4×4 vehicle (think Jeep Wrangler or other models) to navigate F-roads. Four-wheel drive and all-wheel drive vehicles are usually intended for off-roading. While it's also illegal to go off-roading in Iceland, the fact that you are legally required to drive a 4×4 just to brave the F-roads should give you an idea of just how rugged and challenging these roads can be. Be sure to practice caution when driving on these roads and go slowly. Just because they are open doesn't mean common sense goes out the window. You are still driving through unknown terrain in an unfamiliar country.
What is an F-road in Iceland and are they open all year?
When driving in Iceland, your itinerary depends on the things you want to see and do. Where you go will directly impact the type of vehicle you rent (4×4 or not). This is a big part of your budget, so figure out if you need to access Iceland's F-roads long before you arrive. If you plan on hiking in Landmannalaugar or exploring any other part of the Highlands, then F-roads are something you need to consider. Driving in the mountains is definitely an adventure, so get ready with the right vehicle. And drive safely!